CT Gov. Extends Licensing
Deadline until November 20, 2021
The good news keeps coming regarding licensing. Connecticut opticians will not have to renew their licenses until November 20, 2021.
The deadline extension came with the Extension of Angency and Municipal Emergency Orders by Gov. Ned Lamont just recently. More specifically, opticians with licenses current as of March 30,2020, will not need to renew them until six months after the deadline for the civil preparedness emergency order. That date is November 20, 2021.
"Extension of Agency and Municipal Emergency Orders: Any unexpired order, rule, regulation, directive or guidance issued by any official, agency, department, municipality, or entity pursuant to an unexpired COVID-19 Order, which by its own terms provides that it shall remain in place for the duration of the public health and civil preparedness emergency, shall remain in effect through May 20, 2021, unless earlier modified or terminated by the issuing authority or a subsequent executive order."
Connecticut Optician
Asks for Your Help
As an optician with 49 years of experience, Connecticut optician Bruce Tooker had the opportunity to participate in mission trips to Haiti over the last 3 years that focused on providing free eye examinations and eyewear to villagers in and around Port-au-Prince. Tooker saw patients who were losing or had lost their sight because of cataracts. The villagers, on average, earn less than $2 a day, making basic of vision care unaffordable and surgery to correct cataracts impossible.
In cooperation with Medical Aid to Haiti, Inc. (MATH www.medicalaidtohaiti.org), Centre Medico-Chirurgical du Quartier (Neighborhood Medical-Surgical Clinic) and Société Haïtienne d'Ophtalmologie (Haitian Society of Ophthalmology) has created a program that will provide cataract surgery to needy patients. The cost for surgery is $120 per eye, and a donation of $300 includes surgery, transportation to and from the hospital, pre-op testing, and follow-up care.
Tooker is hoping that you will help 100 of the poorest in villages in and around Port-au-Prince to regain their vision. Your donation is tax deductible and your gift of sight will last lifetime. Make checks payable to MATH Cataract Fund and mail to MATH Cataract Fund, c/o Medical Aid to Haiti, 80 S. Main St., W. Hartford, CT 06107.
OpticalCEUs Speaker Deborah Kotob Named Director of Education
for 20/20 Magazine
In February of 2018, OpticalCEUs speaker Deborah Kotab was selected as the director of education for 20/20 magazine. Her duties include creating programs that furthers the magazine's education mission for opticians.
OpticalCEUs founder and speaker Linda Conlin was named managing editor of the magazine's Pro to Pro section in late 2017. Contact Linda to sign up for Pro to Pro "Email Blasts".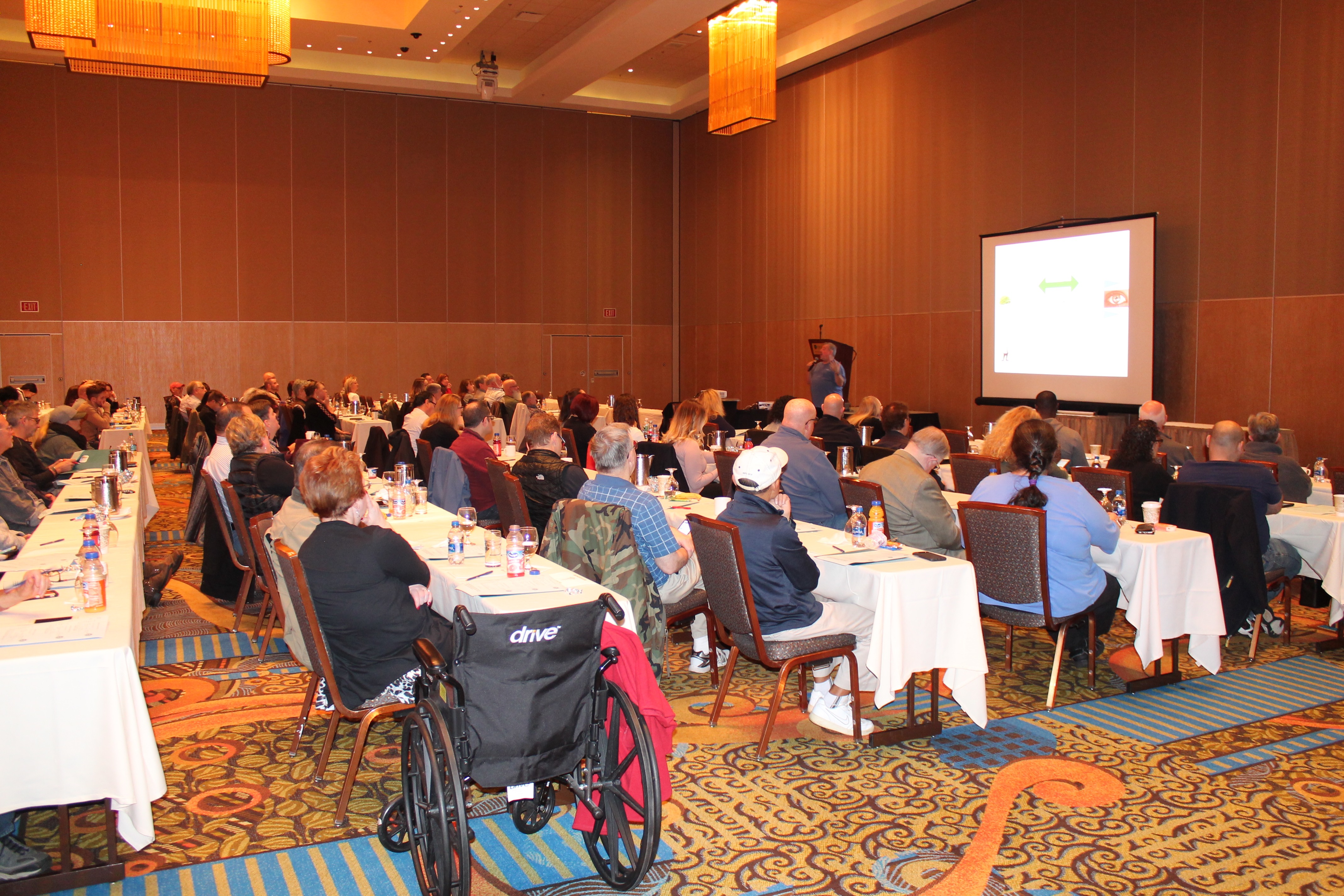 Success Again for OpticalCEUs!!!
19 Years and Going Strong
Scores of opticians from four corners of the Northeast descended on Mashantucket, CT, for the annual OpticalCEUs seminar. They met in the lavish Premier Ballroom of the Fox Tower Hotel and Casino on the Foxwoods campus. After a day of a fine breakfast, wonderful hot lunch of choice, and listening to nationally recognized speakers, they left Mashantucket with seven ABO/NCLE credits that they could apply to the licenses in Connecticut, Rhode Island, Massachusetts, and New York.
They learned how to create a great experience for your patients, explored the applications for rigid gas permeable contact lenses, examined the pros and cons of new soft contact lenses, and learned about the impact of nutrition on the eye and vision. (OpticalCEUs seminars have always been approved by the licensing boards of Connecticut, Massachusetts, and Rhode Island. The Opticians Alliance of New York is sponsoring credits for New York State opticians (ID 071317-071220.018).)
OpticalCEUs Brightens
Spring for 12 Dozen Opticians
It was a wonderful Spring Sunday Sunday, April 29, at the Foxwoods Resort and Casino. Some 12 dozen opticians from New York, Connecticut, Massachusetts, Rhode Island, and New Hampshire came the resort location for the 19th Annual Continuing Education Seminar by OpticalCEUs. Linda Conlin, founder of the seminar and OpticalCEUs, praised the opticians for the pursuit of professionalism in the face of demands within the industry to deprofessionalize the service that opticians offer their customers.
The seven courses, which provided opticians with seven ABO/NCLE credits, covered the following subjects:
· Explore options in new blue filter lens technology
· Learn about medications that affect vision
· Understand the pros and cons of new soft contact lenses
· Understand and experience optical phenomena
OpticalCEUs Spring 2017
Seminar Ties Record Attendance
An almost record number of opticians from Connecticut, Rhode Island, and Massachusetts came to Foxwoods Resort and Casino for OpticalCEUs Annual Spring Seminar on April 30. They listened as gifted and knowledgeable speakers Joe Forte, Deborah Kotob of Vision Ease spoke about the following:
Advise your patients about the effects of blue light exposure

Review spectacle lens options and considerations for the correction of Ametropia and Presbyopia

Provide top-notch patient care with new technology for specialty contact lens fitting

Expand your knowledge of contact lens materials, treatments and their applications
The opticians also enjoyed a complimentary breakfast as well as OpticalCEUs renowned buffet lunch of soup, salads, pulled pork, and other offerings as well as a wonderful dessert bar.
OpticalCEUs Fall 2016 Succeeds Again!
Some twelve dozen opticians from Connecticut, Massachusetts, and Rhode Island attended OpticalCEUs Annual Fall Conference for continuing education in the Grand Pequot Ballroom, at the Foxwoods Resort and Casino on October 23. They picked the latest ideas in the field - from lens technology to reduce blue light exposure to contact lens fitting for irregular corneas. They listened to the following presentations:
Just the Blue Light Facts, Ma'am!

Lensology – Lens Basics Review

Become a Contact Lens Fitter

A New Approach to Fitting Irregular Corneas

Contact Lenses – How We Got Here From There

Managing Ocular Allergies
OpticalCEUs Spring Continuing Education Seminar, Draws
Opticians from All Over New England
Some 150 opticians came to Foxwoods Hotel and Casino to sharpen their skills, dusted off their imaginations, and picked up the latest optical ideas—from sun lens technology to specialty contact lenses. It all happened at OpticalCEUs Spring Seminar on April 10 in the Celebrity Ballroom of Foxwood's Fox Tower (formerly MGM Grand). In the second level ballroom, they earned up to 7 ABO/NCLE credits.OpticalCEU's speakers covered the following topics:
The Nature of Light and Its Practical Applications

Explore the Cornea

Managing Ocular Allergies & Ocular Surface Disorders with Single Use Lenses

Specialty Contact Lenses are Not That Special

Shades of Green

Lens Enhancements

Rigid Gas Permeable Contact Lenses
Linda Conlin Speaking at CE Meeting for New Hampshire Opticians
Linda Conlin will speak at the annual New Hampshire Opticians Conference. The conference will be held on Oct. 16 at the Grappone Conference Center in Concorde, NH. She will have presentations on keratonus, the cornea, malpractice, complications associated with grading contact lenses.
The Story of Vision Aired Oct. 13; The Story of Vision eBook Follows
A one-hour documentary produced for PBS broadcast and distribution. The story's threads will weave the tale of the journey of humanity that discovered the science; technology and medicine that allows us to understand how sight works, cure diseases of the eye and correct vision. Efforts will be made to make this a co-production with international partners like BBC, NHK, ABC (Australia) and other international broadcasters."For more information, click.
People will also be able to download the eBook or iBook also entitled The Story of Vision, produced by Mark Mattison-Shupnick, Jobson's director of education and training content. Four articles by Linda Conlin appear in the book.
OpticalCEU Speaker Joe Forte
Earns NCLE Masters
Joe Forte recently earned his NCLE Masters Certificate. The percussionist and the director of contact lens services for Greenwich Ophthalmology Associates, Greenwich, CT, has long served the education needs of opticians. He lectured at CUNY Tech, Vision Expo and Optifair. He is certified as an Advanced Level speaker. He was program director of the Interboro Institute College of Opticianry where he taught courses in various areas of contact lenses and optics. Joe has been a Fellow of the CLSA since 1992.
In order to attain this esteemed status, Joe had to do the following for NCLE examiners:
The NCLE Master in Contact Lens Technology designation demonstrates to the public and colleagues that an individual has attained a superior level in Contact Lens Technology.... [And he needed to satisfy the following conditions:]

●Currently a Fellow of the Contact Lens Society of America (CLSA), or

●Have written two published NCLE-approved Advanced Level III articles, or

●An NCLE-approved Speaker with two NCLE-approved Advanced Level III Courses, or

●Have one published NCLE-approved Advanced Level III article AND one NCLE-approved Advanced Level III Course for which you are the NCLE-approved Speaker
Linda Conlin Teaches in Goodwin
College's Ophthalmic Science Program
With the start of the Fall 2015 semester, Linda Conlin is teaching in the Ophthalmic Science Program at Goodwin College, E. Hartford.
The two-year associate degree education tract enables individuals to learn about opticianry. Working with a dedicated team of eye care professionals, students learn to design, fit, and dispense corrective eyeglass and contact lenses in the school's state-of-the-art optical fabrication laboratory, contact lenses laboratory, and training store. The program also prepares students to sit for ABO's and NCLE's exams.
Goodwin College's Ophthalmic Program Accredited
At the October 2, 2016 meeting, the Commission on Opticianry Accreditation (COA) approved accreditation for Goodwin College's Ophthalmic Science The program was found to be in compliance with the Essentials of an Accredited Educational Program for Opticianry. The accreditation lasts for two years. This accreditation classification will be in effect retroactive to May 25, 2016 and expiring May 24, 2018. The accreditation status will include all graduates of the program in 2016. This accreditation status will be extended to 6 years when the program is able to demonstrate full compliance with the remaining potential/non-compliant sections of the Essentials. This is standard for newly accredited programs.The commissioners said that they are honored to list the Ophthalmic Science Program at Goodwin College among its accredited programs.